BIO
Haviah Mighty didn't need to change her birth name when she decided to dedicate her career to music. Mighty could not better describe Haviah's craft of provocative challenges and uncompromising truths. 
 
Based out of Brampton via Toronto, Haviah has spent a lifetime developing her skills as a songwriter, vocalist, producer, and performer, culminating in a style of profound introspection and incisive socio-political critique. Her dynamic combinations of rap, song, and instrumental transition seamlessly from hip-hop to soul to afrobeats with a meticulous flow and cadence that transcends any traditional expectation of genre. 
 
2019 saw Haviah earn break-out success with her album, 13th Floor, making her the first hip-hop artist and the first Black woman to win the Polaris Music Prize, celebrating the "Best Canadian Album of the Year" - but Mighty didn't stop there. With her JUNO Award-winning mixtape, Stock Exchange (Nov. 2021), Haviah made history once again as the first woman to ever win within the Rap Album of the Year category. Most recently, Haviah was the only Canadian nominee at the 2022 BET Hip-Hop Awards within the 'Best International Flow' category. Recognition has spread internationally, garnering praise from the likes of Rolling Stone, Pitchfork, GRM Daily, FADER, Hot New Hip Hop, and so many more. 
 
From performance invitations by massive European tastemaker, COLORSxSTUDIOS, to BBC 1's Jack Saunders proclaiming "I just cannot find anything as good as Haviah Mighty", to crushing the 5 Fingers of Death on the legendary show, Sway in the Morning - and being invited to do it again September 2023 - Haviah Mighty is unstoppable. 
 
Mighty pushes forward continuing to carve out spaces that boldly defy gendered expectations for women in hiphop. Unyielding and irresistible – Haviah Mighty will be heard.
PRESS PHOTOS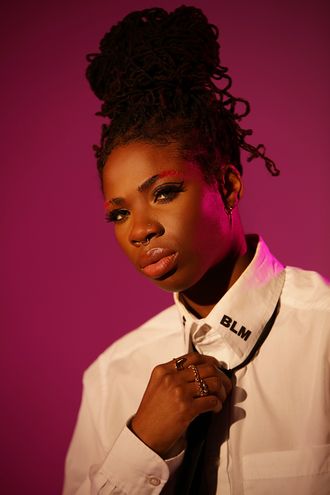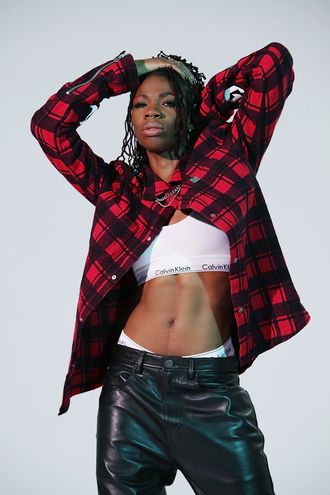 PRESS
Album Review (7.3/10) - "With inventive storytelling and eclectic beats, the Toronto-based rapper constructs a breakup album that sucks everyone into the drama....You can hear the level-headed swag of Young M.A battling it out in her head with Drake at his most treacly, an interplay channelled in her voice."
Hip Hop Awards 2022: The up-and-coming female emcee earned her first nomination for 'Best International Flow'.
R&B/Hip-Hop Fresh Picks of the Week: Listen to 10 new must-hear songs from emerging R&B and hip-hop artists like GloRilla, LUCKI and Lakeyah.
HipHop DX 

Canada's Haviah Mighty makes History as the first female artist to win Best Rap Album at JUNOS Awards
 Rolling Stone

Premiere for 'Protest' Music Video
Pitchfork

8 New Albums You Should Listen to Now

Fader

"The Canadian rapper's new mixtape is a searing indictment of the way we constantly compare ourselves to others…Haviah directs her lightning flow and razor-sharp lyrics at the systems that place social value on some individuals and leave others in the lurch"
"While the masses have latched onto names like The Weeknd, Drake, & Justin Bieber, the Canadian Hip-Hop and R&B space offers much promise for those willing to take a deeper look. In particular, the past few years have proven to cultivate talented female artists within the arena. Many of them have not just created a lane for themselves, but have managed to kicked down doors in respect to making their presence known. One of these regional powerhouses goes by the name Haviah Mighty." 
 "10 New Albums to Stream Today"
30 Underrated Female Rappers You Should Listen to in 2021 - "She is a skilled rapper, vocalist and writer who does not shy away from tackling societal issues through songs; and she does so with poignant, defiant lyrics and sharp delivery."
Rated: VERY HOTTTTT
"The 2019 Polaris Prize winner is one of the most exciting voices in hip-hop today, equally comfortable with windows-down bangers and mind-bending conscious raps."
21 Breakout Musicians To Know In 2021 - "There must be something in the water in Toronto, because Haviah Mighty is another rapper from the city who, after having a breakout 2020 (BBC Radio 1's Jack Saunders recognized Haviah as "one of the most exciting new rappers out there") whose unapologetic hooks are bound to travel even further in 2021"
 "A true storyteller"
"Haviah Mighty hasn't been playing games on her way to the top: she's spit bars on the cypher battle rap circuit during her time with the all-female MC collective, The Sorority, spun up quicksilver freestyle rhymes on Sway in the Morning, and proven that she has the ear, artistry, and producing prowess to craft groundbreaking music deserving of Canada's most prestigious music award, the Polaris Prize, with her 2019 record, 13th Floor."
Billboard

Polaris Prize 2019 Winner Announcement
Pitchfork

Album Review (7.5/10) - "The Canadian rapper's debut is her most cohesive and narratively ambitious project to date." "13th Floor captures the spark-plug energy of her live performances with ominous, bass-heavy beats and hard-nosed bars that could go toe-to-toe with any challenger."
Lyrical Lemonade

"Canada has had a lot of female artists step up their game in the past few years, after this release it would seem if Haviah has put herself ahead of the pack with an album that will stand the test of time."
XXL Mag

Listed as one of '15 Toronto Rappers You Should Know' - "Sounds like: The flow of Missy Elliott mixed with the soul of Destiny's Child" "Haviah has a level of swag that stands up next to stars like Snoop Dogg and Sheck Wes, for both of which she's previously opened. There's no telling how far she'll go."

Uproxx

"Haviah Mighty is her real name. She's only 24-years-old. It's like the Rap Gods decided they'd had enough of the day-to-day shenanigans and decided to cook up their own Athena, fully-formed as the perfect specimen of flow and force, of energy and charisma, born to be a star."
DJ Booth

"Haviah's flows are just as immaculate as her bars"
The FADER

"The song's frenetic production and booming bassline provide the perfect backdrop to Haviah's commanding flow"
Blog TO

10 Female Rappers in Toronto You Should Know  - "Undeniably the most energetic and promising rapper in the city right now"